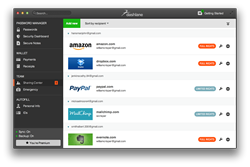 New York, NY (PRWEB) July 16, 2014
People share passwords, whether at work or at home, and it is a nightmare. Co-workers share passwords to FedEx and Twitter; family members use the same Netflix or Seamless accounts. These passwords are typically emailed around in plain text plain insecure. If someone changes the password, everyone else gets locked out. And how secure is the companys QuickBooks password when accountant leaves with it?
To eliminate these problems, Dashlane 3 introduces Password Sharing and Emergency Contacts.
Password Sharing
Dashlane 3 allows families and roommates to simply and securely share passwords to bank accounts, utilities and more. It also allows workplaces to solve problems such as: